Jake Epstein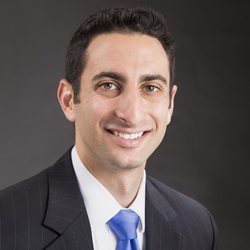 Prior to starting The Epstein Law Firm, Jake Epstein worked as a trial lawyer at McGuireWoods LLP, a large international law firm, for six years. He represented individuals and entities in a wide variety of litigation matters in state and federal court.

His practice included defending healthcare practitioners and institutions in lawsuits alleging medical negligence and personal injury, representation of commercial entities in product liability litigation and contract disputes, and representation of pharmacies and pharmacists.

Before joining McGuireWoods, Jake was a law clerk for Senior Resident Superior Court Judge Carl R. Fox.
While earning his law degree, Jake taught Trial by Jury and represented criminal defendants in the Criminal Justice Clinic at Georgetown University Law Center.

He received his law degree from Georgetown University Law Center in 2007 and his undergraduate degree from Duke University in 2003.

---
---
Experience, Memberships, and Admissions
Memberships and Admissions

Admitted to practice in all N.C. State Courts, Federal District Courts for the Eastern, Middle, and Western Districts of North Carolina, and the U.S. Court of Appeals for the 4th Circuit.

North Carolina State Bar Delegate to the American Bar Association House of Delegates, 2013 - present

North Carolina Bar Association, Board of Governors, 2016-present
Member, Litigation Section
Member, Administration of Justice Committee
Division Director, Young Lawyers Division, 2012-2013
Co-Chair, Legislative Committee, Young Lawyers Division, 2011-2012
Co-Chair, Wills for Heroes Committee, 2009-2011
Member, Wills for Heroes Committee, 2008-2009
Member, American Bar Association, Litigation Section

Member, North Carolina Association of Defense Attorneys, Litigation Section

Member, Wake County Bar Association

Member, 10th Judicial District Bar

Member, ACLU-NC Legal Committee

Member, BarCARES of North Carolina Board of Directors

Experience:

Defended numerous physicians and healthcare providers against allegations of medical negligence in state court and in arbitration.
Tried lawsuits to verdict with success in state superior court, district court, in arbitration, and before the Office of Administrative Hearings.
Represented numerous healthcare providers in regulatory matters.
Obtained summary judgment in federal court for a rental car company against a claims of product defect, breach of implied warranties, and negligence.
Obtained summary judgment and settlement for a condominium owner against a condominium owners' association.
Settled a lawsuit on behalf of a consumer against a finance company, a car lot, and a towing company.
Defended a leading car seat manufacturer in a lawsuit alleging product liability and personal injury.
Member of a team of attorneys serving as national counsel for a leading supplier of smoke alarms.
Member of a team of attorneys serving as national counsel for a leading home improvement retail chain.
Defended a large national manufacturer in a number of cases arising from asbestos exposure.
Represented a major medical center in state court against allegations of mass tort stemming from improperly washed surgical instruments.
Effectively defended public and private housing tenants from eviction.
Represented numerous indigent criminal defendants in court and in parole revocation hearings.